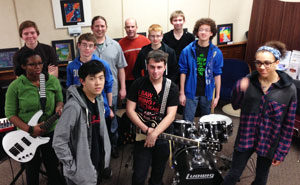 Course Description:

The Rock Performance Workshop consists of a 4 month (except for the summer) workshop of coached rehearsals, culminating in a live performance. It is a great opportunity to rock out with peers, guided by experienced musicians.
Eligibility:
This course is intended for teens with several years of playing experience in vocals, guitar, bass, drums or piano. Other rock instrumentalists are also welcome.
Rock Performance Workshop
Info for Summer 2017 session:
Tuition – $275
Approx 11 hours through September
Saturdays at 6:00 PM and other times/groups TBA
Rehearsals more frequent from the end of August through September
Intro to Rock Performance
Students of the guitar, drums, piano etc., who have little or no experience and may be younger than high school age, may join our Intro to Rock Performance class. Please call NJWA at 908-789-9696 for more information on how to register.
Dates for Spring RPW 2017 session:
March 4, 11, 12, 18, 25
April 1, 8, 22, 29
May 6, 7, 13, 20
June 3, 10
Time:

Group A: 
7:00 – 8:30 pm
Other groups as scheduled
Tuition:
$555.00 for 4 month session
Location: Rehearsals take place at the NJWA Studios, 150-152 East Broad Street, Westfield, NJ
Directors: Glen Brown and John Bryan
Information: Please phone 908-789- 9696 for additional information or a registration form.